2019 Merced County Business Assessment Project Reveals Valuable Insights on Challenges Facing the Local Small Businesses
Posted On:
Tuesday, September 10, 2019 - 2:47pm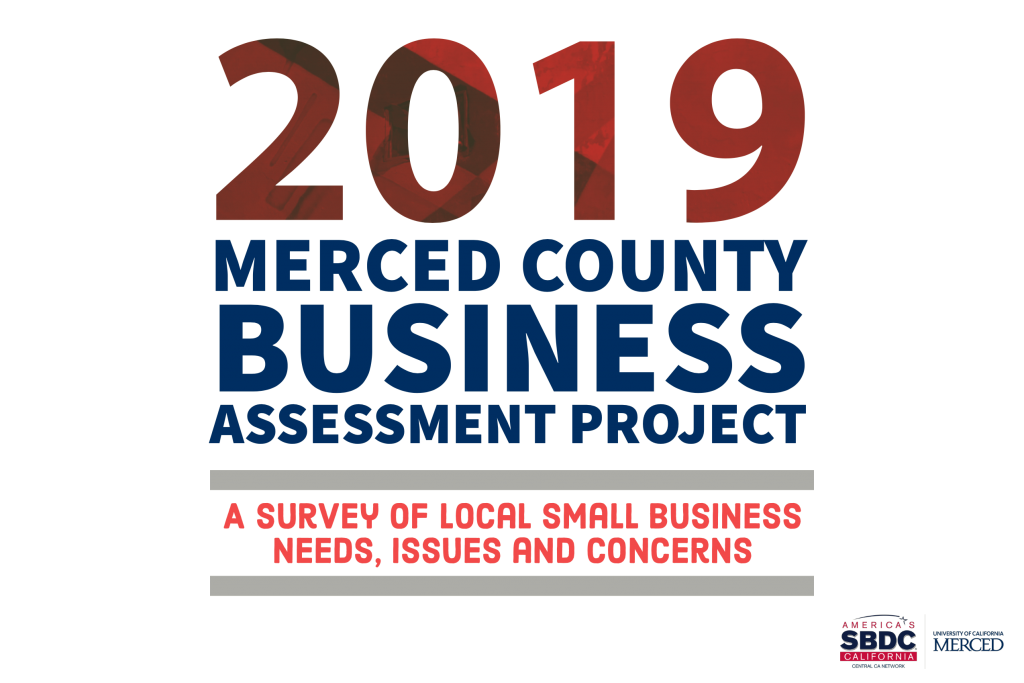 FOR IMMEDIATE RELEASE
DATE: Wednesday, September 11, 2019
CONTACT
Phone: (209) 228-3506
Email: ucmsbdc@ucmerced.edu
2019 Merced County Business Assessment Project Reveals Valuable Insights on Challenges Facing the Local Small Businesses
Merced, CA: Forty-nine percent of local small businesses recently surveyed by the UC Merced Small Business Development Center (SBDC) in Merced County report that their greatest challenge is finding new customers and markets. Forty-six percent say that finding quality employees is their second biggest hurdle. 
"This marks the second year we have administered this important survey," explains UC Merced SBDC Executive Director Kurtis Clark. "These finding were among many valuable insights gathered from 356 in-person interviews on the issues and challenges facing small businesses in Merced, Los Banos, Livingston, Atwater and Winton." Conducted between June 10thand August 9th, some intriguing highlights include:
Business owners are growing and in need of new employees:49% say they are looking for new employees, up from 44% in 2018; 55% are looking to hire in the next 3 months, up from 48%; and 27% expect to be hiring in the next one to three months.
Companies reinvest their earnings: 81% of companies use their earnings to fund their businesses, followed by personal funds (26%), credit cards (15%), and bank lines of credit (11%).
Marketing practices blend old and new:85% of local businesses rely on word-of-mouth as the most popular way to attract and retain customers. A majority (63%) also use social media, adapting to changing consumer expectations. Use of newspaper, magazines and specialty publications has dropped to just 5% in 2019, vs. 17% in 2018. 
Clark also noted that 71% of respondents were not previously aware of the SBDC; 53% expressed interest in learning more. Hosted by the UC Merced, since 2003, the Central CA SBDC Regional Network has assisted thousands of companies, from start-ups to established firms with no-cost consulting services, workshops and assistance in sourcing funds. 
"Our intention is to conduct this survey annually in our business communities to measure changing needs over time, and look at ways the SBDC can provide solutions, programs and services that can help address their needs, and help these companies grow and succeed."
The research project was sponsored by Merced County, City of Merced, UC Merced, the State of CA, the Governor's Office of Business and Economic Development (GO-Biz), and the US SBA.
For a detailed copy of the 2019 Merced County Business Assessment Project report, click here. Learn more about the UC Merced SBDC at UCMercedSBDC.com.
##